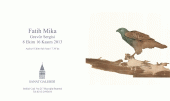 "Etching" Exhibition by Fatih Mika 8 October – 16 November, 2013
Etching artist Fatih Mika launches his 67th personal exhibition at Beyoglu Municipal Art Gallery between 8 October and 16 November, 2013 to display his latest works as well as some pieces from the previous periods.
In his etching work, the Artist is inspired especially from the remainders of the memories from his childhood and youth days which intimately and directly exposed to the nature of Istanbul and its surroundings, and its animals particularly the birds and the fish.
Pigeons (some flying, some perched on a piece of rock or roof tiles or domes), falcons, ducks, cats, long clusters of ants, and shimmering fish scales and sea shells, as well as magnolia flowers, branches, leaves and marsh plants are some of the most successful etching pieces which narrate the traces of a nostalgic fairytale from the past. And the Nature's holy book in the eyes of the Artist becomes a never ending fairytale itself.
Today, Fatih Mika is an etching artist who has many different multicultural sources originating from his birthplace and non-erasable traces from his formation back in Turkey. In this context, the Whirling Dervishes in their red caps, or silhouettes of mosque minarets and domes penetrating the sky and magnificent Istanbul profiles, or carpets are just few examples of the magical vehicles from these fairy tales.
Fatih Mika was educated in "Etching Techniques" in the reputable Fine Arts Academy of Sarajevo; and he lectured "Etching Techniques" in Fine Arts Academy of Rome. He still lectures the same subject in Fine Arts Academy of Foggia.
Opening Date: 8 October, 2013, Tuesday Time: 17:30 Place: Beyoğlu Municipality Art Gallery Address: İstiklal Cad. No:217 Tünel /Beyoğlu Tel: 0212-2492610